twentytwenty
Brief
The year that wasn't… We'd been in talks around ideas to end 2020 on a high, with plenty of positivity around the potential of 2021 and some kind of normality returning. Then things started to change and the UK was plunged back into lockdown ahead of production starting. That meant we were right back to the drawing board, how could we have positive messaging when the mood locally and nationally just wasn't that? We couldn't be as positive as we had hoped so we went back to the very basics of the idea, we'd all had a year that hadn't happened…
Preproduction
To create a film such as this, the preproduction and the planning is everything. The concept and creative are the main drivers.
Our main focus in taking the idea back to its root in order to rebuild it was that this was going to be an a-political and personal piece – lots of people's livelihoods and lives had taken a real bashing so we did not want to convey the message that everything is great and to disregard people's struggles. However there was a chance to explore achievements in adversity. This meant we could split the film into two parts:
1 – Achievements in adversity.
2 – Hope for the future.
There was a huge need to be really realistic with where we were at. The brief demanded to be people driven – not to make the film materialistic or too broad. With this we moved into Preproduction.
Preproduction was crucial to create this project. We looked at three different scenarios for the film, with some straight-forward, pretty functional options and an ambitious fictional narrative. It was the fictional narrative that caught everyone's attention, both within our teams and the clients.
We needed to ensure that the treatment was authentic. There were things to be hopeful about within the Tees Valley which were to be shouted about and celebrated, but we couldn't ignore the fact that for many there have been really challenging and life changing repercussions from this global pandemic, with no telling of when things are going to get better.
There were three important steps for us to consider...
Concept
Our cinematographer came up with a beautiful way to balance this tension, telling the collective experiences that many have faced through the eyes of one person. And so we weaved a narrative of the unfortunately familiar stories of postponed weddings, cancelled holiday plans, and job losses in and out of the positive opportunities that the Combined Authority had proven their commitment to, and the events that the people of the Tees Valley have to look forward to in the not too distant future.
We knew that every shot within this film had to have a purpose, add to painting the broader picture for our audience, that things have been tough but they will get better, and so we spent lots of time in the pre-production stage really pouring over each shot and ensuring there was no 'fat'. This meant that when we hit production we knew the importance of every shot, and how imperative it was to get it right. There was no room for error.
The music choice was going to be a vital element for this film. It's rare for us to use a track with vocals and lyrics in our films, however this atmospheric and beautiful track by Marie Hines and Jordan Critz really resonated with the feeling of the film. It was clear that this was going to be an integral part of the story to tell.
Music
A river to a valley, an ocean to a stone
The time it takes the edges to become well worn
But with your arms around me, I've never been more sure
That all this time and softened lines, we're better than before
Oh, oh, oh
We're better than before
Oh, oh, oh
My love will not change
My love will not change
Through the years it grows but time will hold the weight
My love will not change
Sailing through the seasons with every setting sun
Breathing in the feeling like we've just begun
Feels like we're flying but it's steady ground
In all the chaos and the quiet, you're my safe and sound
Our character
The piece follows John's story and the impact the pressure of a pandemic has had on his relationship and livelihood. A journey from a cancelled wedding and redundancy to securing employment at the local Teesworks project culminating in an impromptu back garden wedding made possible through the characters perseverance and drive in the face of global adversity.
With the script and storyboard linked so tightly, it needed a bold sign off from the Communications team and the Tees Valley Mayor before going into production as it would be a difficult story to unpick and tell in a different way. We were really fortunate at how they both bought into the story and the creative.
Production
Shooting was a jam packed and lively two days. We bounced around the Tees Valley transforming back gardens into wedding venues (waiting for the perfect light in plummeting temperatures), soaking up the atmosphere of an airport departure lounge again (going through security felt like a treat), and had a great time working with the incredible actors who really connected and delivered when it came to telling the stories that we have faced and battled through in 2020.
Because of the way that the preparation in Preproduction had progressed, the shoot was distilled into two days. This gave us a really tight and strict shooting schedule which would bring everything into fruition.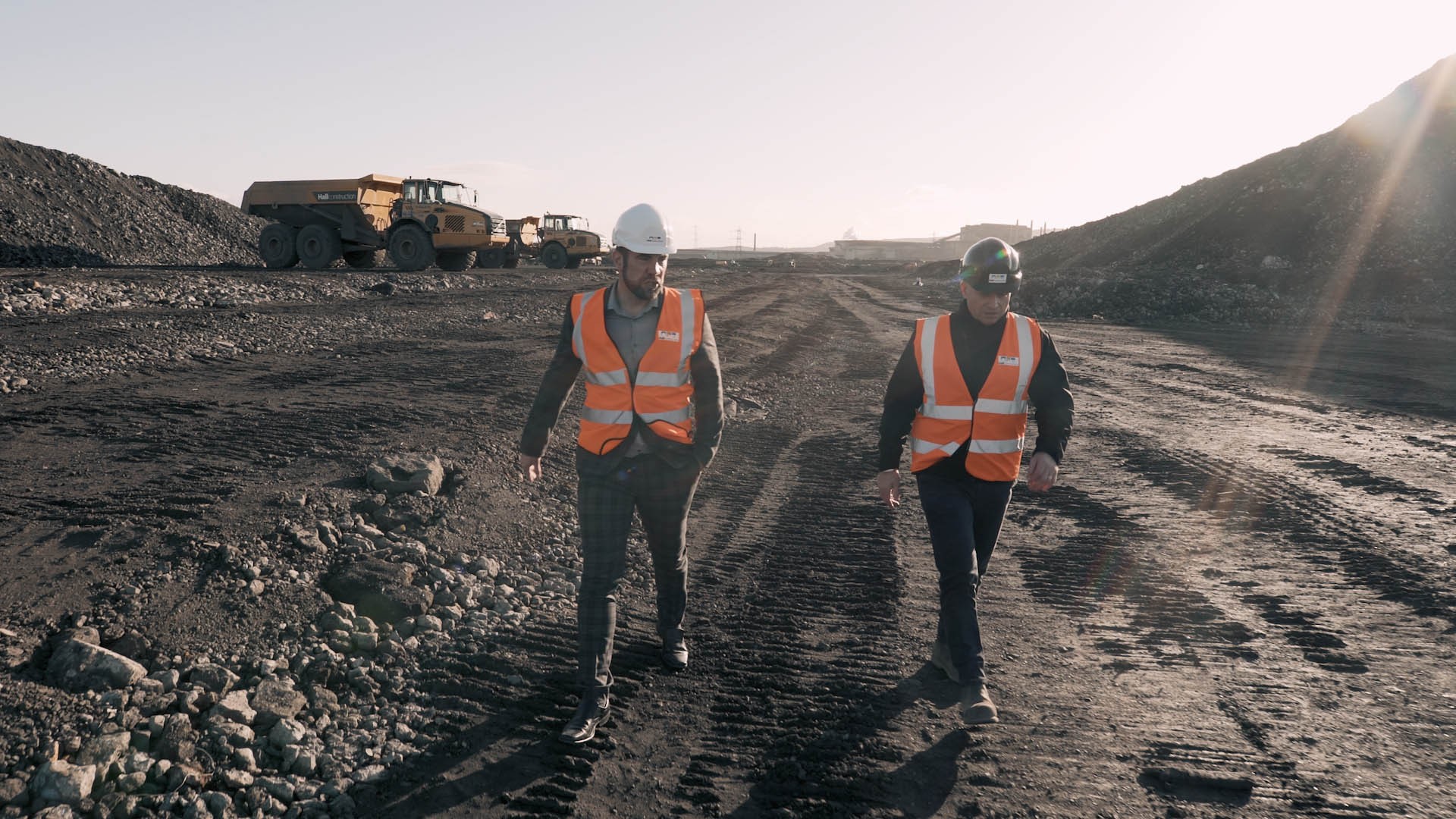 Post production
Every detail shown on screen is the result of meticulous planning and close collaboration with TVCA in the pre production stages of the project, in this instance by starting with the choice of song before moving onto script writing and detailed storyboarding delivered in house by our team.
With such a complex story arch to tell in only 2 minutes this is a very lean film consisting of 69 shots averaging 2-3 seconds each filmed over the space of two full days. Only through the hard work put into pre production were we able to optimise our time most effectively making this mammoth task possible to a quality we're proud to put our name to.
Although the music was defined at the preproduction stage, it required some refining to allow us more time with particular parts of the story. We didn't want to peak too early in the narrative and had to find a sweet spot to reflect the way our character had felt at the early stages of lockdown.
We chose a Cashmere look for this film, giving us scope to bring out earthy and warm tones from our raw footage. In this case it brought a muted tone to a lot of the footage which we felt more suited the way people were feeling rather than a vibrant, saturated look. The winter sun really responded to it when we bring in those shots in the uplift of the narrative.
Results
We all had a bit of trepidation heading into the launch of the film. There had been some minor tweaks around the wording and shaving a few seconds here and there, but everyone who had seen the film so far had loved it. We were massively thrilled when it hit social media, racking up 108,000 views and an outpouring of shares and comments. It was a relief to see that the film had hit a chord with people.
It was a bold decision by TVCA to pursue this type of production, the result is an amazing film. Without their trust and belief in us, it wouldn't have worked out this way.
"When we set out our vision for this film, we wanted to do something a bit different, that didn't shy away from the reality of these difficult times and the sacrifices we've all had to make during the pandemic, but that was also positive about the future and gave hope.
The team at Ithica fully understood what we wanted and were able to make the ideas a reality. They needed to strike a fine balance between the contrasting themes, making sure it wasn't too negative while staying true to people's experiences. They captured the story with real emotion, making it relatable for our local audience while being uplifting and informative about what our organisations have done, and continue to do, during coronavirus.
Thanks to their creativity, this video has gone on to become one of our most viewed and engaged videos we have shared, receiving a lot of positive feedback internally and externally."
Craig Peacock, Group Marketing and Communications Manager, Tees Valley Combined Authority