Great North Air Ambulance Service
Brief
One of the great unseen emergency services apart from the second you need them. It's hard to miss the air ambulance crews when they're called into action but funding that fleet requires year round support. We were asked to produce a 30 second commercial ready for TV and social to bring the story to life of how the fleet works and the importance of keeping them in the air through public donations. This was to be a progression of campaigns the marketing team had been running on social media and radio during the pandemic - this was to take it on a level and show exactly who they were.
Preproduction
Prepping this project had a lot of variables to work through - flying drones around a helicopter, filming a helicopter without being able to get inside it due to covid regulations, getting close enough to film without putting anyone at risk, getting it ready to clear through the TV agencies - so preproduction was vital to translate the successes of the campaigns they'd ran previously into film.
Clearing the above and forming a shooting script meant that we moved into production with a clear plan of how we would bring a cinematic eye to an operation that is already very, very interesting. Showing the snap actions that are taken when the air crews are needed would be the driver for the narrative.
Production
As we moved into production and picked up cameras we had several keys sequences to film - the call coming in, the scramble to the aircraft, covid precautions and takeoff. Lighting the control room added a bigger sense of drama to proceedings and bizarrely for a shoot in the North of England we had to create our own rain. Shooting the aerial sequences required us to link in with the Air Ambulance's neighbours who happen to be an international airport. We had to limit distances and time in the air to get the shots of the helicopter in the sky which was our final step of production.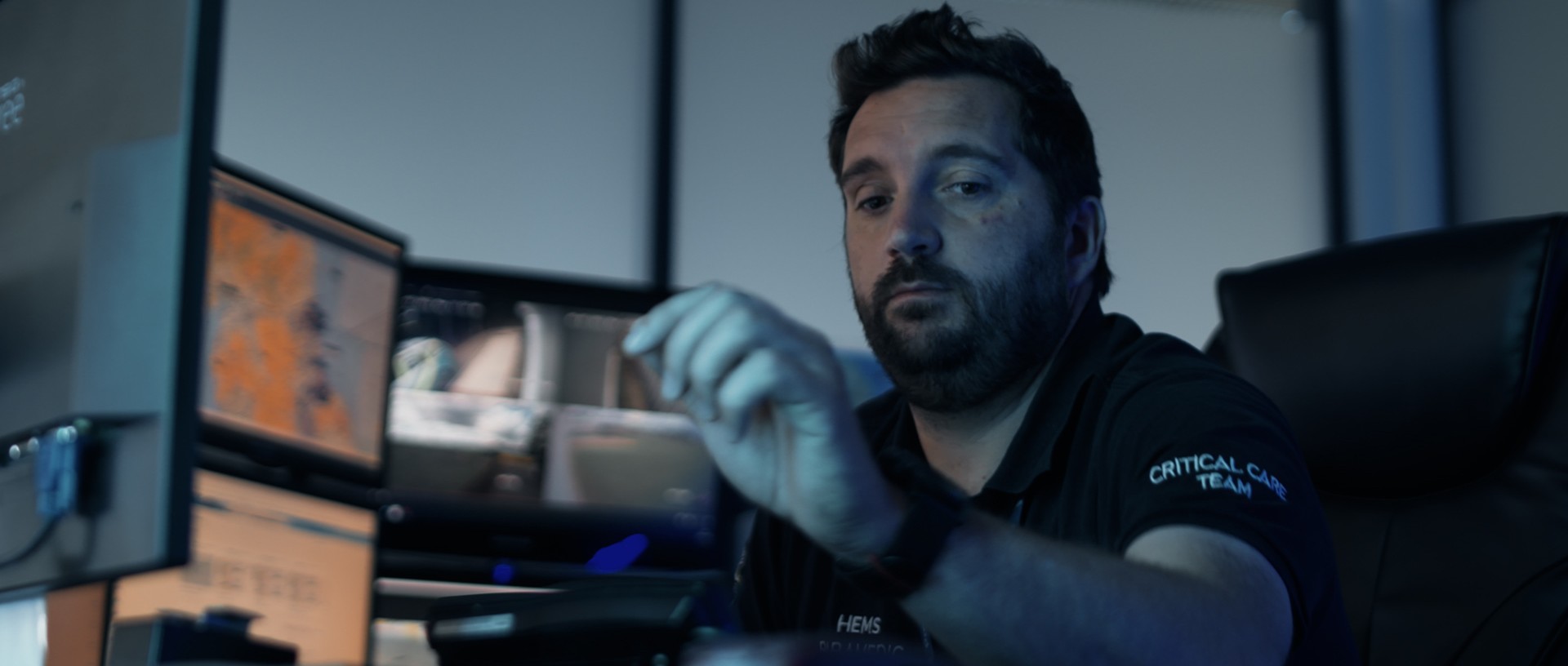 Postproduction
With the work done at the preproduction stage it was quite a straight forward edit to pull together. The majority of our focus was building a foley bed to go with the shots - there's no music on this film and every sound has been built during postproduction to allow the pace and drama of the sequences to link together. This is a technique we use occasionally for the right films, and in this case it allowed us to drive the narrative of the film and link in with the frantic style of the shots.
Results
We had a great response on social with over 20,000 views on the first day of the campaign plus the TV campaign launching over their operational area between the North East and Cumbria.
Find out more about supporting the Great North Air Ambulance Service here: https://www.greatnorthairambulance.co.uk/